Making soap in the way we make it needs around 6 weeks to make bigger amounts of soap (50 or more).
We love to look into this with you to see what's possible.
Email to info@amsterdamschezeepfabriek.nl
Our filosophy is to make beautiful products for a fair price. Every soap will cost you, and make us, the money we need to use for ourselves and the existence of the Soapfactory. We do not intend to make more and more soaps, but exactly enough for us to work well and have the opportunity to evolve towards more economically save and sound existance.
Ofcourse there is a more friendly price for the sympathetic re-sellers of our products. Do mail us and ask for the prices. Mail to info@amsterdamschezeepfabriek.nl
We have our six soaps and its also possible to have your own wrapper (designed by our designer based on our wrapper for one of our soaps) for a fixed price. This wrapper can really become your own with logo and color of your choosing with still all the official parts on it the wrapper needs to carry within EU regulations and within rules around cosmetics.
Some examples will be visible here in a little: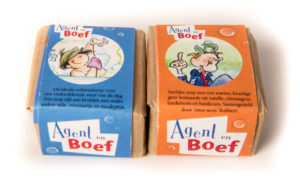 The limited edition of the book in Dutch for 5 year olds "Agent and Boef and the slick soapy jokey business" of 2016 by Kees de Boer and Tjibbe de Vries at Lannoo uitgeverij.
The creative selling of the single 'Reflection' by the band Monokuro with a unique downloadcode for the song, 2015.
To develop a whole soap for yourself is possible, but will fall in a whole different price category. Asking is okay! info@amsterdamschezeepfabriek.nl